Africains : pas dignes si non Musulman ni Chrétien
Africains : vivent-ils une vie de jungle ?
Allah : selon la Nation de l'Islam et les Shabazz
Allah a autorisé le diable à nous faire du mal
Arabie : meilleure partie de la planète terre
Asie : aversion pour l'homme noir
Christianisme : Religion de Satan
Coran & Bible bientôt remplacés par un nouveau livre
Dieu Lunaire : Destruction Suicidaire
Elijah Muhammad entendait des voix
Elijah Muhammad parle des Africains
Fard Muhammad enseignait toujours Elijah après son départ
Fin du Monde constamment reportée par Elijah Muhammad
Franc-maçon : seul le Coran peut vous faire un
Franc-maçonnerie, Islam, 33e degré
Jésus : conçu par la fornication
Jésus, dans la Bible, est la prophétie d'Elijah Muhammad
Jésus poignardé à mort, voir son corps pour $6000
Le Christianisme a 551 ans (depuis 1930-34)
Les Blancs ont fait beaucoup pour vous et moi
L'Islam doit dominer le monde religieux tout entier
L'unité ne vient qu'en acceptant l'Islam
Malcolm X : mort et destruction à le suivre
Mecque : seul lieu saint de la planète
Moins d'amour pour les Africains
Moïse & Jésus parlaient l'Arabe
Moïse & Jésus : prophétie concernant Elijah Muhammad
Nation de l'Islam : aliénation mentale de noirs arabisés
Non Musulman : il va se détruire lui-même
Origine de la civilisation :désert d'Arabie
Polythéistes ayant un Dieu temporaire avec date d'expiration
Prière : Salat tourné vers l'Ouest
Retour en Afrique pas nécessaire
Soleil, Lune et étoiles : seul les idiots ne les vénèrent pas
Voyage en chameau vers l'Egypte
Yakub : Dieu supérieur durant les 6000 dernières années
Prostitués, pas femmes d'Elijah Muhammad ?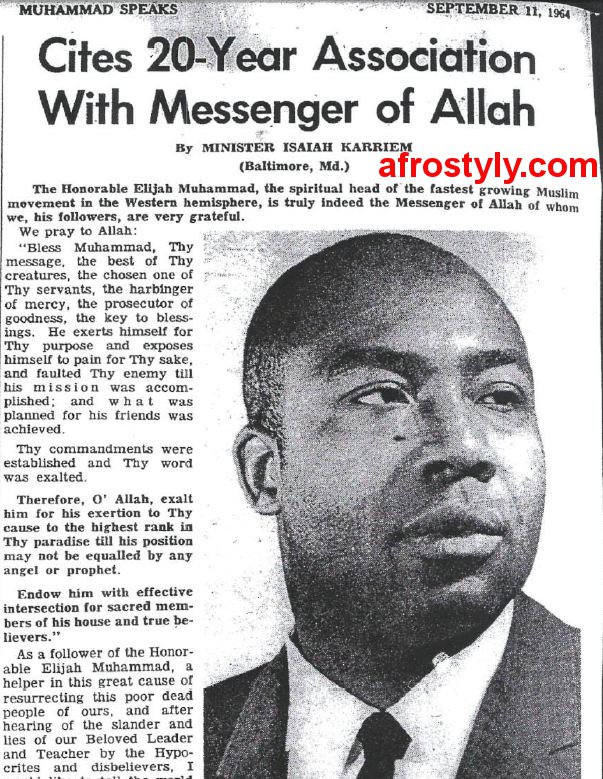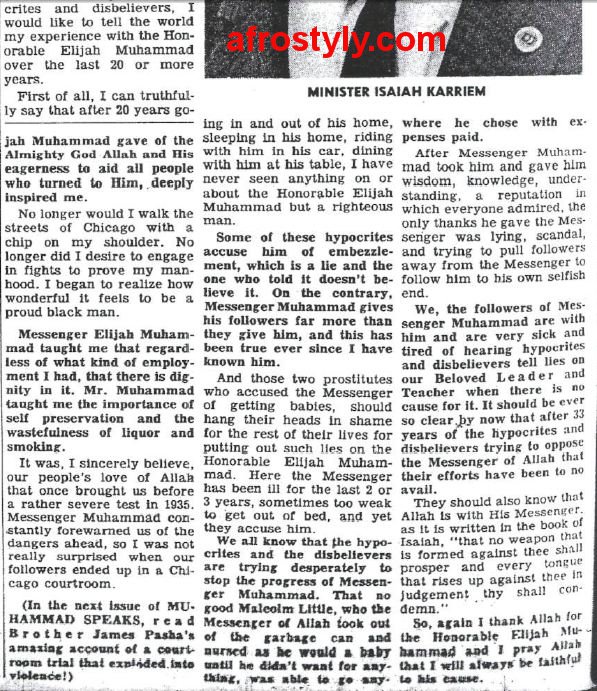 The History of Jesus p.20 "Jesus is Killed" Art. 8 sep. 7, 1957
The officer drew a small sword-like knife from his side (which looks like the American Hunting knife). Only this little sword is sharp, on both sides of the blade, to about two-thirds of its length. He plunged the sword through the heart of Jesus with such force that it went clear through and stuck itself into the boards that he was standing against (and left him as crucifix). By Jesus having such strong nerves, his death was so instant that the blood stopped circulating at once.
The History of Jesus' Birth, Death, and what it means p.21 (Jesus body)
No Christian is allowed to see the body, unless they pay a price of $6,000 and must get a certificate from the Pope of Rome. The tomb is guarded by Muslims.
[…] But, Muslims, the brothers of Jesus can go to see his body at any time without charge.
The History of Jesus' Birth, Death, and what it means p.53
Since 1914, which was the end of the time given for the devils (white race) to rule the original people (black nation), man has been preparing for a final showdown in the skies.

The History of Jesus' Birth, Death, and what it means p.56
THE PRESENT wheel shaped plane known as the mother of planes, is one-half mile by half mile and is the largest man-made object in the sky; a small human planet made for the purpose to destroy the present world of the enemies of Allah. The cost to build such a plane is staggering! The finest brains were used to build it. She is capable of staying in outer space six to 12 months at a time without coming into the earth's gravity. It carries 1,500 bombing planes and the deadliest explosives; the type used in bringing up montains on the earth. The very same method is to be used in the destruction of this world.
The Genesis Years p.9
It took the original machinists twenty years to build the "Mother Plane" […]
The Genesis Years p.17
The bombs are equipped with motors and the toughest of steel was used in making them. This steel drills and takes the bomb into the earth at a depth of one mile and is timed not to explode until it reaches one mile into the earth. This explosion produces a mountain on mile high; not one bomb will fall on water. They will all fall on cities. As Ezekiel saw and heard in his vision of it (Chapter 10:2) the plane is terrible. It is seen but do not think of attacking it. That would be suicide!
The Genesis Years p.162
The true religion of God is Islam and others WILL NOT BE ACCEPTED.

The Genesis Years p.422
A scientist by the name of Yakub discovered this knowledge (that white could be grafted out of black) 6,645 years ago, and was successful in doing this job of grafting after 600 years of following a strict and rigid birth control law.
The Genesis Years p.365
Well, we all know that there was a God in the beginning Who created all these things, and do know that he does not exist today, but we know again that from that God, the person of God continued until today in His people, and today a SUPREME ONE (God) has appeared among us with the same Infinite Wisdom to bring about a complete change.